Five Commonly Asked Questions Regarding Quad Bike Safaris
September 3, 2019
A quad bike safari is a great way to see parts of Dubai which less adventurous tourists don't even know exist. Plus, the freedom of riding through the lesser-traveled areas of UAE will come as a welcome alternative to the expensive boutiques, busy restaurants, and noisy luxury vehicles which seem almost impossible to escape from in Dubai. If you have never considered a quad bike safari in the UAE before, you most likely will have a number of questions. Don't worry, you can count on us to provide the answers and point you towards a quad bike safari agency you can trust. Here is everything you need to know about quad bike safaris.
Are There Any Age Restrictions?
If you're planning a quad bike safari Dubai, there are plenty of agencies in the emirate that you can go to. Virtually all of them have age restrictions of some sort, but each individual agency sets its age requirements at its own discretion. Some quad bike rental agencies in the city allow customers to ride solo as young as 14 years of age. Others refuse to accept anybody who is not 18 years or older. Most agencies fall somewhere in the middle, permitting solo riding from 16 years of age. Either way, brace yourself for a quad bike safari Dubai, style experience that is one of a kind.
Is It Safe for Children?
While a child will generally not be permitted to captain a quad bike, most quad bike companies permit juvenile riders as long as they are accompanied by an adult. Of course, many adults worry even this may be too dangerous for a child. Such concerns are understandable but unnecessary. As long as an adult is in charge of the younger rider's bike, they will be completely safe. Additionally, a quad bike safari is a wonderful experience to share with your child and will provide them with memories to last a lifetime.
Is It Safe for Elderly People?
So now we know a quad bike safari is safe for children but is it safe for elderly people? Retirees rejoice, the answer is yes! Just like any other quad bike rider, an older person can be sure of a fun and comfortable riding experience as long as they don't have any underlying medical conditions which would make a quad bike safari ill-advised. Many quad bike safari operators in Dubai organize tours specifically for senior citizens, which we advise our older readers to look into.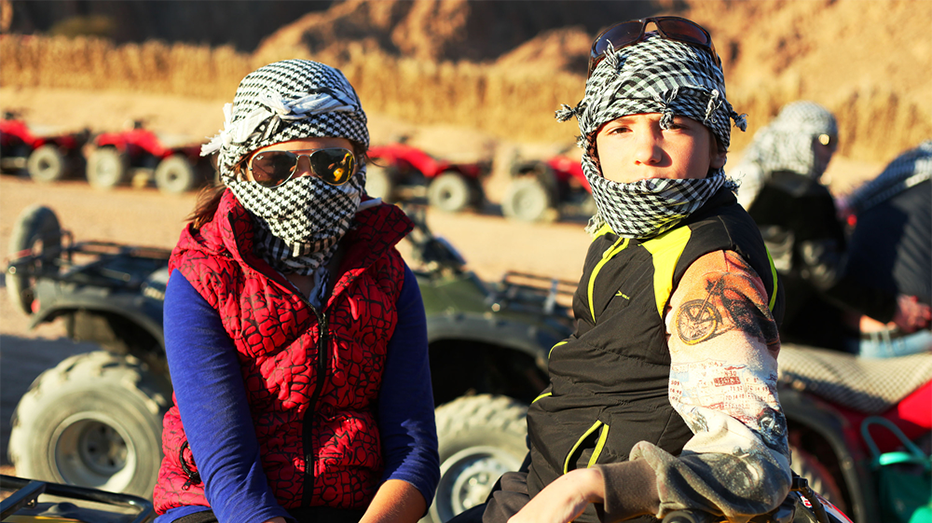 How Long Is It?
Although a quad bike safari is not an all-day activity, you should be sure to free up a good chunk of your day if you are embarking on one. Many agencies in Dubai time their tours to an hour or so. However, a number offer extended safaris, which can last as long as five hours. It is also important to remember there will likely be some sort of orientation and training before your tour, which could add another hour to the whole experience.
How Much Is It?
Dubai is an expensive city, so it's only natural to be concerned about the cost of your quad bike safari. While there are a number of tour operators in the city which charge unreasonable amounts - especially for tourists - there are several which are both affordable and reputable. Take your business to the right agency and you can get a full hour biking tour for as little as 650 AED. Keep your eye out for the coupons and deals that many of Dubai's quad bike safari providers offer and you could enjoy a tour for even less than that!